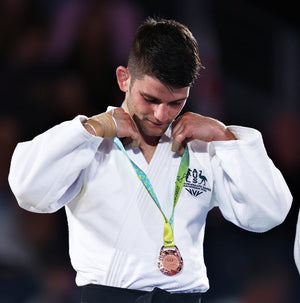 MIXED MARTIAL ARTIST | CMBT Athlete
JARRET
From clinching multiple titles in Mixed Martial Arts to breaking down the intricacies of the sport for enthusiasts worldwide, Jarrett Wilbraham is a testament to passion and perseverance for his chosen field.
Choosing to immerse himself in full-time training, Jarrett has shown an unwavering commitment to MMA. This dedication even led him and his partner to adopt an unconventional lifestyle, living in a van for over three years in pursuit of his dream. Jarrett has carved a niche as a knowledgeable and respected MMA analyst. Leveraging his Instagram platform, he enlightens followers about the nuances of the sport, fostering a deeper appreciation for MMA's art and science.
BELIEVE AND ACHIEVE
"I just want to show people that if you decide what you want to achieve in life and go above and beyond to achieve it, there is no way that you can fail."
FOLLOW JARRET ON INSTAGRAM
While my dedication and focus have been unwavering during countless hours of training inside and outside the gym, I acknowledge that I have faced challenges in areas like organization and preparation.
Fortunately, CMBT has proven to be a valuable ally, not only on the nutritional front but also from a mental, spiritual, and organizational standpoint, thanks to the CMBT Strong Dashboard.
This comprehensive support system has played a pivotal role in helping me conquer the smaller yet vital milestones that fuel my courage and determination.
The pinnacle of my career, without a doubt, is the achievement of earning three consecutive 'Fight Of The Night' awards. These accolades represent the culmination of years of relentless effort and commitment to my craft.
CMBT RELOAD | Peanut Butter Honeycomb
JOSH'S FAVORITE PRODUCT
Delivering 29g of complete plant protein from all natural, wholefood sources, CMBT Reload is the champions choice when it comes to performance and recovery. With added ingredients like curcumin, electrolytes, BCAAs, Bioperine, and digestive enzymes, CMBT Reload delivers unrivalled recovery and wellness support.
CHOC-CHIP PROTEIN PANCAKES
JOSH'S FAVOURITE CMBT KITCHEN RECIPE
If you're looking to treat yourself to something a little more satisfying that your usual toast or cereal, these protein pancakes are packed with nutrients and totally delicious.
ATHLETE CODE
Support Josh by using 'KATZ10' at the checkout and get 10% off!
USE CODE
JOSH'S WEBSITE
VISIT SITE