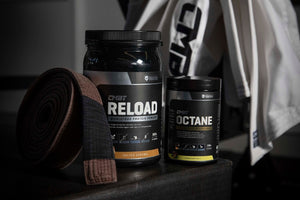 A BIT ABOUT US...
CMBT (pronounced "c.m.b.t") was established in 2018 from our desire to provide our community with the highest quality and most effective banned substance-tested sports supplementation and nutrition possible.
Since then, we've evolved into more than just a nutrition company, we've become a lifestyle brand with a deep desire to help our community eat better, move more, be more mindful and foster connection with others. 
We call these tenets the Bravery Machine.  
WHY BRAVERY?
Because we believe that those who are brave enough to face their fears and conquer adversity head-on are those who can unlock their true potential.
How do we do this? 
With quality nutrition, physical exercise, mindfulness, and connection with others. These are the things that allow us not only to survive but to thrive. When we thrive physically and mentally we have the ability to step out of our comfort zone and do amazing things; we have the ability to be brave. 
It is our mission to help our community be braver, achieve things they never thought possible and become the best version of themselves, mind, body, and spirit.
It is our mission to help you #findyourbrave.
OUR RANGE
CMBT is the trusted choice for quality, reliable, and transparent nutrition products that boost performance and recovery for the world's best athletes.
Developed in consultation with leading food scientists and dieticians, the CMBT range is engineered using the highest quality, plant-based ingredients, so you can feel your best, and perform your best. Every batch of CMBT product goes through rigorous testing by HASTA, to ensure that they are safe for use, are true to the label and can be used at the highest level of sports competition.
In 2018, CMBT was founded by Sel Berdie & Miles Muecke, who came together with a common passion for combat sports. 
Sel began his career as an exercise scientist and sports nutrition product development manager for some of the biggest sports nutrition brands in the world, as well as played professional sport at the highest level. After retiring from professional sport, Sel needed a competitive outlet and found a love for Martial Arts, which led him to competing in both kickboxing and Brazilian Jiu-jitsu.
Miles starting training martial arts while at University, competing regularly in BJJ & submission grappling competitions and leading to amateur MMA competition. While building a career in law, Miles went on to open his own Martial Arts Academy with two of his best mates and this is where Miles and Sel met.
After developing a strong relationship on the mats, Sel and Miles decided to go into business together, creating a product development and marketing agency focussed on health and wellness brands. Over the years the two helped hundreds of businesses develop thousands of health food and sports nutrition products with a desire to create a healthier world.
Suffering from regular and severe burnout, Miles found himself frustrated with the lack of nutritional products available that catered specifically to the high-intensity needs of combat athletes. 
Sel and Miles started to realise how many members of their own community were suffering from a lack of nutrients, struggling to get a sufficient intake of protein, and having trouble recovering after big sessions. This was the catalyst for the idea to start CMBT. 
Having experience in sports nutrition, and being well-acquainted with the needs of high-performance athletes, Sel and Miles began their mission to create the most nutritionally superior formulas designed to help their community boost their performance and recovery, as well as their overall health and wellness. 
The mission has only just begun...